PLEASE NOTE: THE PRICE OF THIS LIMITED EDITION SIGNED BOOK IS $30 PLUS $3 FOR SHIPPING. CLICK ON THE PRICE ABOVE TO PURCHASE ONLINE.
Tales of Wizardly Whimsy: SIGNED COPY
Tales of Wizardly Whimsy by artist and author Jeffrey Schweitzer is a short story of rhyming couplets that is beautifully illustrated by 17 pen and ink illustrations. These exquisitely detailed illustrations and rhyming verses follow the exploits of an eccentric and allusive old Wizard who some believe lives high in the mountains in a castle above the clouds. Mr. Schweitzer has developed a following for his whimsical illustrated short stories and limited edition art books that are perfect for both children and art lovers alike. Titles also available by Jeffrey Schweitzer through Bindlestick Books include Into the Moonlight, 2014.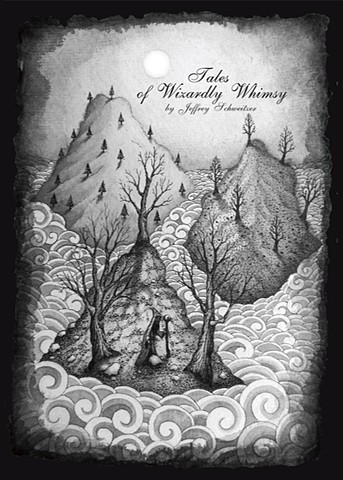 Author:
Jeffrey Schweitzer
Tales of Wizardly Whimsy (Hardcover)
Published by Bindlestick Books
ISBN: 978-0578166735
Special edition hardcover book. Signed copy.
6 x 9 inches
2015