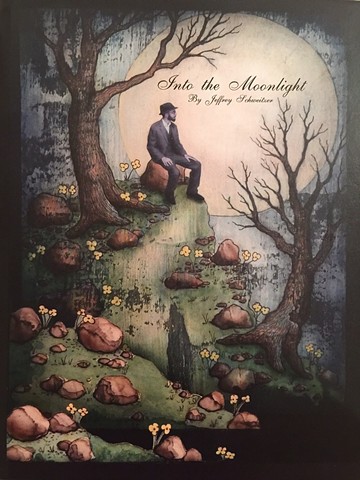 Author:Jeffrey SchweitzerInto the Moonlight HardcoverPublished by Bindlestick BooksISBN: 978-0-578-16732-9
Special edition hardcover book. Signed copy.
8 x 10 inches
2015
$30.00 CLICK ON THE PRICE ABOVE TO PURCHASE ONLINE.
Into the Moonlight is a short story by artist Jeffrey Schweitzer illustrated by 12 delicately crafted hand cut paper "sets". These 12 pieces were crafted in exquisite detail from layers of paper, wood and photographs then painted with washes of India ink for this book. Into the Moonlight is a rhyming narrative of a young man who falls in love with the moon and pursues his obsession through a dream-like landscape of colorful flowers and towering waterfalls. Mr. Schweitzer's whimsical poems are created to move the viewer through an intimate visual experience that is both personal yet universal and perfect for art lovers of all ages.