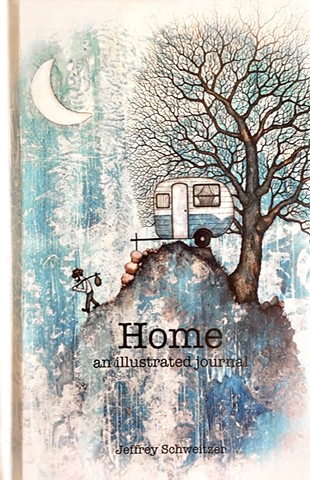 Signed limited edition hard cover versions of Home, Countless Hours, The Mundane Ghost, The Eccentric Gentleman, Into the Moonlight and Tales of Wizardly Whimsy are available at Bindlestick Studio. Books by Jeffrey Schweitzer can also be found online wherever you prefer to buy books.
Bindlestick Studio is located in Santa Fe, New Mexico in the Canyon Road gallery district at 616 1/2 Unit A Canyon Road. We are open to visitors from Thursday - Sunday from 11am - 4pm and by appointment on Monday- Wednesday.







$30.00 CLICK ON THE PRICE ABOVE TO PURCHASE ONLINE.
Home is an illustrated semi-autobiographical journal by artist Jeffrey Schweitzer. From 2016-2019 the artist rebuilt a 1957 Sterling Corvette travel trailer. During this time, he used the space as a mobile studio where he created new projects including Home. This series pairs beautiful small pen and ink paintings with brief journal-like stories crafted on a vintage typewriter. A perfect book for art lovers of all ages, Home asks the reader to re-imagine their fading memories and reflect on the meaning of the word home.